Steps for Starting Your Recruitment Agency
Recruitment agencies don't just identify and contact candidates for their clients. They aim to provide better career choices for the candidates as well. This win-win spirit is what motivates a recruiter to do their best every day.
Especially with the whole COVID-19 pandemic going on, it's even more vital to help people and companies fill positions to continue operations and ensure survival and success.
If you are keen on starting your own recruitment business to help more dreams come true for both businesses and candidates, you should know these 8 key steps.
Step 1. Determine Your Niche
To start with, you need to determine which type of recruitment agency you want to establish. You could be an IT-focused agency or a retail business-oriented staffing team. Just examine the network you have and the knowledge you excel at, and choose a market to provide your service. Also, consider which candidates you have the strongest connection with. Are they fresh graduates or are they seniors? Asking yourself these questions will help you better position your business.
Here's a list of the 4 different types of recruitment agencies to give you a better idea: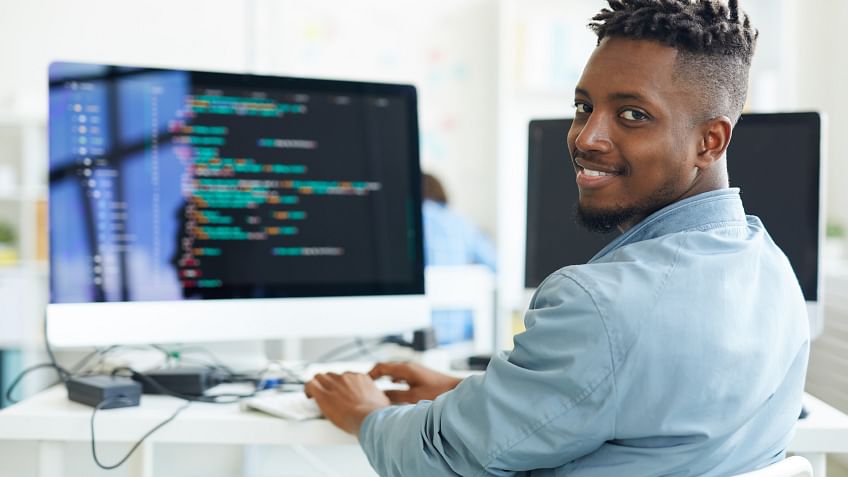 1. Traditional Recruitment Agency
This type of agency is also called an "employment agency" and the most common one of all. How they work is fairly straightforward. They only scout for candidates whenever their client needs a certain position filled.
They usually place individuals for long-term positions, which usually range from entry to high-level roles. Once a candidate is successfully onboarded, they charge a flat fee or a percentage of the candidate's salary.
However, it's important to note that when someone drops out within an agreed amount of time (usually 3 months), the recruitment agency has to find a replacement or waive the fee paid.
If you're planning to put up your recruitment agency, be sure to screen candidates properly by offering a lot of support throughout their application journey.
2. Headhunting Agency
A headhunting agency is also called "executive search firms". These companies only source high-level executives for companies like Chief Technology Officer (CTO), General Manager (GM), Director of Marketing, and so forth.
They will usually work on a retainer basis or with a percentage of the candidate's salary or a mix of both. The retainment fee is to, as the name suggests, "retain" a recruiter to continuously headhunt the needed position and is non-refundable.
This type of recruitment is very time-consuming but undeniably effective. A lot of people rely on headhunting agencies to find high-level executives because they have professionally-trained recruiters who will relentlessly find the best fit for your organization.
If you're planning on starting one, a team of experienced recruiters is a must.
3. Staffing Agency
A staffing agency is also called a "manpower agency". This type of agency matches the ideal candidate with the right position, similar to traditional recruitment agencies. However, the main differences are the positions they fill and the recruitment process.
First, a staffing agency only fills temporary or contractual positions. These are often from select industries (i.e. hospitality) where they only do contracts and not long-term positions.
Second, the staffing agency hires the people themselves and not the client. This means that they have to do all the interviewing, screening, and training.
It's an all-around company that gives convenience to clients who don't have the time to source short-term employees and deal with the employment terms.
It offers a wide range of opportunities including temporary, temp-to-hire, contract, and direct hire. Staffing agencies charge a mark-up depending on the hired employee's wage.
4. Niche Recruiting Agency
This one is also called a "specialist recruitment agency". They understand the talent gaps in the market and help fill positions faster by providing candidates best suited for specialty roles.
What do we mean by this? They only work with a chosen industry. Let's say, IT. The focus on IT positions and throughout the years develop accrued knowledge and experience to deal with individuals of such caliber.
This enables them to know what skills a good IT worker should have, what kind of packages and compensations they want, and many more. This gives them the advantage to find highly qualified applicants who are true experts in their fields.
Starting a niche recruitment agency might limit your clients, but once you find your momentum, you'll be revered in the field you've chosen.
Step 2. Assess Your Competitors
Once you decide on a market and the type of recruitment agency you want to have, you should assess who you are competing with. Use simple SWOT (strengths, weaknesses, opportunities, threats) and 4 Ps (product, place, price, promotion) analysis to find out how you stand out and where you need to improve your game. As one ancient Chinese saying states, "know the enemy, know yourself, and in every battle, you'll never be in peril."
Step 3. Assess Your Finances
Starting a recruitment agency doesn't require as much money as most other startups. However, you should still consider costs like office equipment, digital tools, staff, insurance, etc. Create a budget spreadsheet and get proper financial advice if needed.
Don't hesitate to seek help or even partnerships with other people. Having someone to back you up can lead to a more efficient and productive workforce, especially when you're just starting.
Step 4. Research Laws and Regulations
Most companies depend on lawyers and counsel to take care of legal business. Yet, as the founder of your agency, you ought to spend time researching relevant laws and regulations to prevent any further legal problems. The latest regulation recruitment agencies need to follow is GDPR, which focuses on data protection.
This is important so you can protect and prevent your company and your candidates from any legal issues that may arise.
Step 5. Build Marketing Plans
First, create a logo and image that meet your agency's style. First impressions matter much more than you notice. Once you set up the look, draft a marketing structure and match each process with tools and skills you can use. For instance, there are various graphic design tools for creating images. As for reaching out to clients and candidates, LinkedIn is a must. Pick the right channels to connect and you'll have won half the battle.
While you're on this, ensure that you take into consideration company diversity, equity, and inclusion, showcasing your website, career pages, and more can highly improve your employer branding and perpetuate a company culture that people would want to work in. You'll be surprised at the number of quality candidates that will attract!
Step 6. Set Up Business Goals
Want to go big? Objectivity is the key. A successful staffing agency counts on not only experiences and a massive amount of candidates but also clear business goals. Adopt a comprehensive yet flexible business model for your agency. Set up short and long-term goals to inspire your recruiters. For example, you could aim to increase stable clients by 10% in 2 months. Maybe you'd like to expand your service area during the next half year.
Creating such metrics or KPIs can help you track progress and let you pinpoint bottlenecks to achieve more. After all, numbers and figures are essential to businesses!
Step 7. Invest in Tech Tools
Recruitment agencies nowadays are enormously affected by technological tools. Invest in the right tool, you will end up saving a great deal of time and money. One of the most popular and reliable digital software used by recruiters is Applicant Tracking System. Use one that can automatically collect candidates' LinkedIn profiles, score out the best candidate, and easily track candidates' status. You'll see how much faster and simpler it is to manage your talented applicants and keep your work organized.
Furthermore, some advanced ATS also have dual functionalities which encompass a reliable recruitment CRM. This way, you'll also get to touch base with clients so you can have more sales for overall company success.
Step 8. Invest in People
Last but not least, you need to hire good recruiters and invest in them. Knowing tips on recruiting a recruiter definitely allows you to meet and hire recruiters with rich experience. However, don't give up on junior recruiters. Spot each recruiter's strength and help them thrive, you are doing a huge favor to yourself too.
With the right people on board, it will tie together your entire recruitment system and you'll reap rewards faster than you know it.